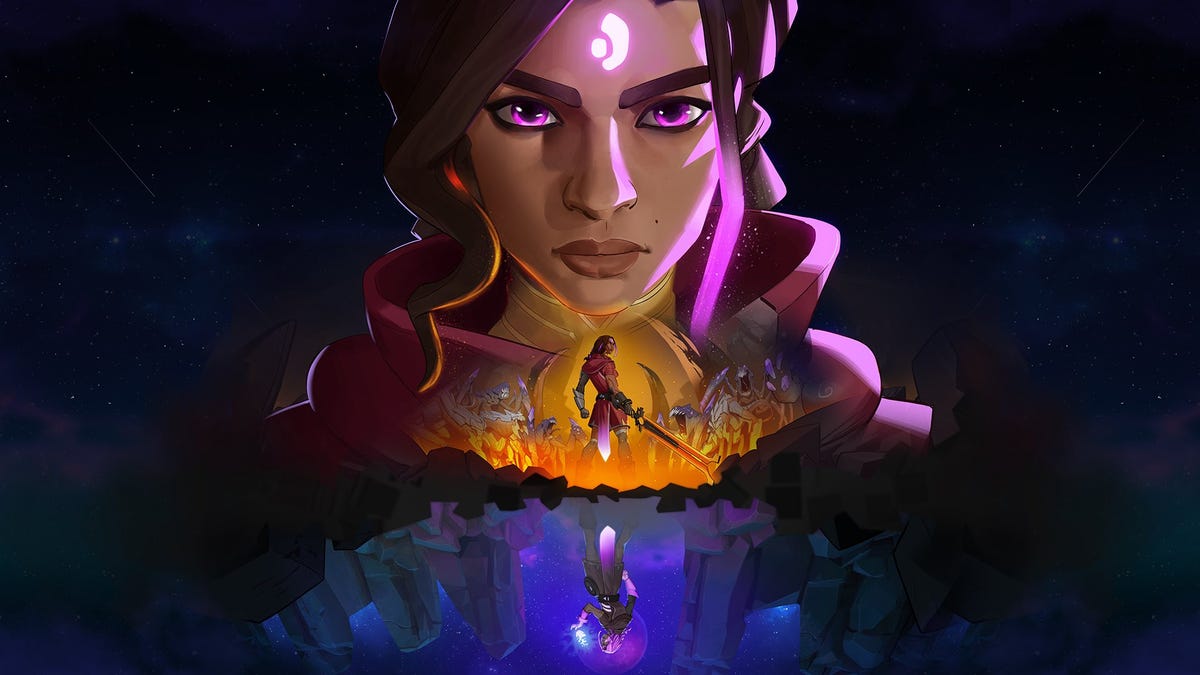 Video game marketing season is an exercise in duality. For every Sony State of Play or Geoff Keigh3, there's a lower key event—a Day of the Devs, say, or a Devolver Digital showcase. Today's big one is the annual Guerrilla Collective livestream.
Now in its third year, the Guerrilla Collective has by now nailed down a familiar cadence, running through 90 minutes of news and reveals of under-the-radar games. It's a refreshing antidote to the endless parade of sci-fi horror games shown at the bigger pressers. Here's everything that was shown at the 2022 Guerrilla Collective:
Well, first, it opened with the hosts cracking a joke about not having to wear masks anymore. Needless to say, this pandemic is still going on. Please wear a mask!
From Space is a co-op isometric shooter about fighting off an alien invasion. Out later this year.
I Was A Teenage Exocolonist is exactly what it sounds like: an adventure game in which you're a teenager who, alongside other teens, stakes an exolplanet. Lovely picture book art style. Out August 25.
Ugly makes use of a dual-realm perspective a la The Medium, except twice as scary and two-thirds as dimensional. (It's a 2D platformer.)
The first-person astronaut shooter Boundary is getting a beta this summer.
Alaloth: Champions of the Four Kingdoms is an isometric fantasy role-playing game.
Okay, I suppose even the indie events aren't immune to sci-fi space horror games. Daymare: 1994 Sandcastle at least seems like it folds in Mass Effect-inspired space magic abilities.
Confirmed: the indie events feature plenty of horror games. Signalis is blissfully low-poly, which means hey, maybe I'll be able to play it.
Gravewood High is a first-person platformer about trying to not get caught by an imposing figure. Playable co-op or competitive, and currently in early access on Steam. Seems kinda scary.
Madison is a first-person psychological horror game wherein you stroll around rusty bathrooms and abandoned churches. You're accompanied by a Polaroid camera, and there seems to be some sort of interdimensional hijinks at play. Doorbells ring without explanation. Definitely kinda scary. Out July 8.
First-person psychological horror game The Fridge is Red currently has a demo live on Steam now.
I'm extremely here for the aching music and East Berlin vibes of Industria, a first-person shooter in which you fight robots. Out now for next-gen consoles and PC.
Phew! Out of the horror woods. South of the Circle is a strikingly beautiful adventure game about power, memory, and the "promises we make in life."
Five years after the release of survival game This War of Mine, the developers have released

a "final cut" edition

, adding new content to the game.
The Last Worker is a first-person narrative adventure game about the inevitable decline of capitalism amid the rise of automation. It stars Jason Isaacs and is out this year for consoles and VR. There are some neat comic-inspired visuals, which should be interesting in VR.
Doja Cat may want EA to remaster SSX Tricky, but Slopecrashers—an arcade snowboarding game that allows you to shred as farm animals—might be all we get in the snowboarding game genre for the foreseeable future. It has a demo out now.
The latest entry in the growing realm of Pokémon-likes is Cassette Beasts, which blew Kotaku's brain when it was first announced last fall. No new info today, alas.
Contract Killer is a side-scrolling action game coming this summer to Switch and Xbox. It's co-op, hell yeah.
By now, the only thing folks want to know about the beat-em-up TMNT: Shredder's Revenge is "gimme gimme gimme." It's out on June 16 and will feature six-player co-op.
Skald: Against the Black Priory is a pixel art fantasy role-playing game coming to PC at…some point. Big Ultima vibes here.
The pixel-art action game BATS: Bloodsucker Anti Terror Squad is getting a physical release for PS4 and Switch.
They said it couldn't be done, but they did it anyway. Yes, Arkanoid is getting a modernized remake. It comes out in October and will feature—sit down for this—a battle royale mode.
In Nine Years of Shadows, a side-scrolling fantasy action platformer, you become best friends with a magical teddy bear. Ancient castles. Giant monsters. Various armor that grants you different elemental abilities.
WrestleQuest is a turn-based role-playing game about wrestling that features actual real-world wrestling icons.
Zeoti is a roguelike based on the most classic game of all: poker. Various skills are tied to various hands; a full house will be more powerful than a two pair, but you're less likely to draw it. Seems, if nothing else, like nothing else I've played.
Sizzle reel! Grid Force: Mask of the Goddess, Live by the Sword Tactics, Necroboy: Path the Evil Ship. These all flew by too quickly to get a sense what they are.
Alterium Shift is a turn-based fantasy RPG with very obvious old-school Final Fantasy inspirations.
Greedventory is a turn-based fantasy RPG with no obvious Final Fantasy references. A lotta metal music, and most of the enemies appeared to be shirtless dudes with bulging eyes.
Bring on the tactics games. Keylocker is a sci-fi tactical game with '80s vibes (aka a synth-heavy soundtrack). It's set in a robot factory where music is prohibited, and features rhythm-based cyberpunk hacking.
Warring kingdoms. Grid-based tactics. Delicious pixel art. Symphony of War takes clear cues from Fire Emblem. It's out now for PC.
Batora: Lost Haven is a narrative-driven game about traveling between planets. It mixes hack-and-slash action with twin-stick shooting, and is out this fall for consoles, PC,

and Switch

.
Asterigos: Curse of the Stars is a third-person RPG which, based on the combat footage shown today, seems like yet another game in the procession of Soulslikes. Out in the fall.
XEL is a third-person action game with vivid, poppy visuals, planned for a summer release. The gimmick? You can swap between past and future, and have to use that mechanic to solve environmental puzzles.
In the third-person roguelike Spells and Secrets, you're a student at a university of magic. It's coming to Switch and PC.
A cat and fish are unlikely best friends in the co-op action game River Tails: Stronger Together. Reminiscent of FromSoftware's PlayStation 2 cult co-op favorite The Adventures of Cookie & Cream. It's planned for consoles and Switch.
Plenty of games are about collecting creatures. But in Ikonei Island, you become the creatures, using their powers to fight, explore, and all the other stuff you do in third-person games. There are also base-building elements, and a multiplayer mode planned for down the line. The beta launches on Steam June 17.
Time on Frog Island is a sandbox game wherein you're shipwrecked on an island. July 12 for consoles, PC, and Switch.
As if one frog game wasn't enough, there's Frogun, a third-person platformer that feels like a throwback to the era of mascot platformers. You play as a child on a treasure hunt, accompanied by a frog who's also a grappling hook. Very colorful and upbeat.
I Am Future is perhaps the brightest post-apocalyptic game this side of Biomutant. It's a survival crafting game, with an isometric perspective, and it's out on Steam this year.
Flat Eye is a strategy management game that has you construct and oversee a robot factory that's also a futuristic hospital. The narrator sounds friendly, but a bit too friendly, so my sense is that There's More Than Meets The (flat)Eye here.
Garden In! is an organizational game in which you decorate singular rooms, all viewed isometrically.
Death Stranding wasn't just a tour de force. It was also the genesis of a new genre. Witch Strandings is an indie take on it, out July 7, 2022, for PC.
Monster Outbreak is a top-down pixel art game that combines the resource-hunting of Animal Crossing with the dungeon-crawling of The Legend of Zelda. It features co-op adventuring and hits Switch and Steam on August 25, 2022.
The Cub is a Limbo-like platformer set on a post-apocalyptic Earth that's seen its citizens abandon the planet for Mars. There's a demo on Steam right now.
Mira: The Legend of the Djinns is a side-scrolling action game with tough-looking boss fights. Seems like a quintessential metroidvania, and is planned for 2023.
The survival game Rain World is getting five new "slug cats," its player characters, via the forthcoming Downpour expansion.
The minimalist runner game Exo One is coming to PlayStation later this year. The trailer quoted Kotaku's initial writeup.
Shashingo is a photography exploration game that also pulls double duty as a crash course in learning Japanese. It's coming to PC and Switch.
Guerrilla Collective reinforced what Ian noted the other evening: that events focused on indie games so often upstage the bigger-budgeted fare. Really, so many of the games shown off today look so good. It's a testament to the craft of video games and how, at this juncture, it's at an all-time high. This is also just a smattering; Guerrilla Collective will host a second showcase on Monday, June 13, at 4:00 p.m. ET.


This news is republished from another source. You can check the original article here