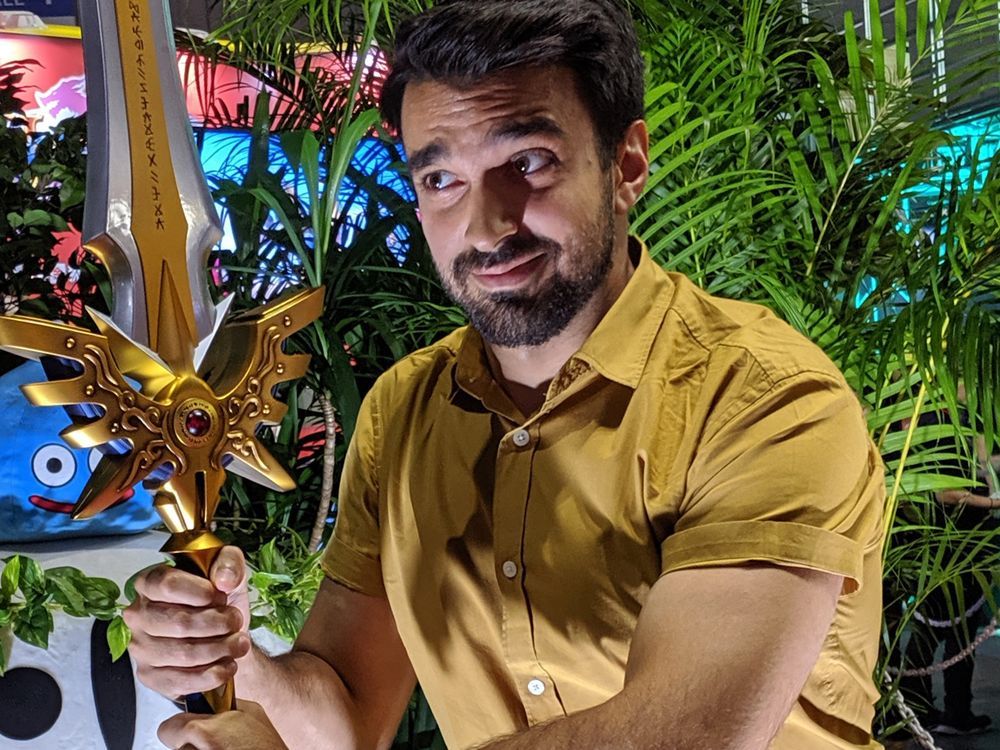 Article content
Becoming the CEO of 13AM Games, a Toronto-based video game studio, is part of a lifelong dream of working in the arts for Alex Rushdy.
Article content
Now eight years after graduating from Keyano College and moving to Toronto, his newest game Dawn of the Monsters released last month. The co-operative game has players traveling the world, smashing cities and fighting hordes of monsters. The game is available on Nintendo Switch, PC, PS4, PS5, Xbox One, Xbox Series X and Stadia.
"We've been really happy with the response to it… It's a real passion project for me personally. I grew up on that stuff and I was glad to make something and share it with the world," said Rushdy in an interview.
"I hope that anyone here and in Fort McMurray that's interested in pursuing creative arts or creative industries goes for it because it's definitely achievable, especially here in Canada."
Rushdy graduated Keyano College with a visual art and design diploma and moved to Toronto in 2013 to study game design at George Brown College.
As a student, he teamed up with eight other students in a game jam, which challenges them to make a video game based off of a theme in 48 hours. The group continued working on the game after the competition and showed their project to Nintendo. Their game, a racing game called Runbow, was developed for the Wii U.
At the same time, the group created their own company for a class exercise on starting a business. Rushdy was asked to take on the CEO role to set a direction. He said it was like "building the plane while we fly it."
"I was able to rely a lot on my mentors from George Brown," he said. "And honestly, just attending industry events, having the ability to do that and learn from people and try and fail a lot was a lot of the early struggles in the business."
Article content
One of the challenges he's found has been understanding the studio's strengths and weaknesses as an independent game developer when pitching game concepts to publishers, he said.
"That's probably the biggest hurdle that we've been able to overcome is staying alive long enough that we can convince people that we know how to make video games," he said.
The latest release, Dawn of the Monsters, took awhile to put together. A prototype was built in 2016, but the studio was having trouble getting funding. The company put the game aside and returned to it in late 2018, taking feedback into consideration and rebuilding it from scratch.
Funding from the Canada Media Fund helped bring the game to life. Ontario Creates also provides funding opportunities for starting digital media projects. But Rushdy said a publisher is typically needed for some funds and to release a game the size of Dawn of the Monsters.
"There are a lot of companies that are willing to sign games and to produce games and to pay for games. There aren't a lot of those companies in Canada," he said. "I would say 95 per cent of them, maybe even close to 100 per cent, are foreign. I don't know of many big Canadian publishers that actually do that kind of work."
When Rushdy was first getting into the industry, he said the major focus on Canada's video game industry was pointed at larger studios in Vancouver and Montreal. Now, he says studios in Canada are diversifying in size and scope. 13AM Games has 11 workers and Rushdy wants to limit staff to 20 people for a more consistent game structure.
"A big change that I've seen over the past 10 years is the amount of smaller independent studios that are really taking charge in Canada has increased," he said.
lbeamish@postmedia.com
This news is republished from another source. You can check the original article here