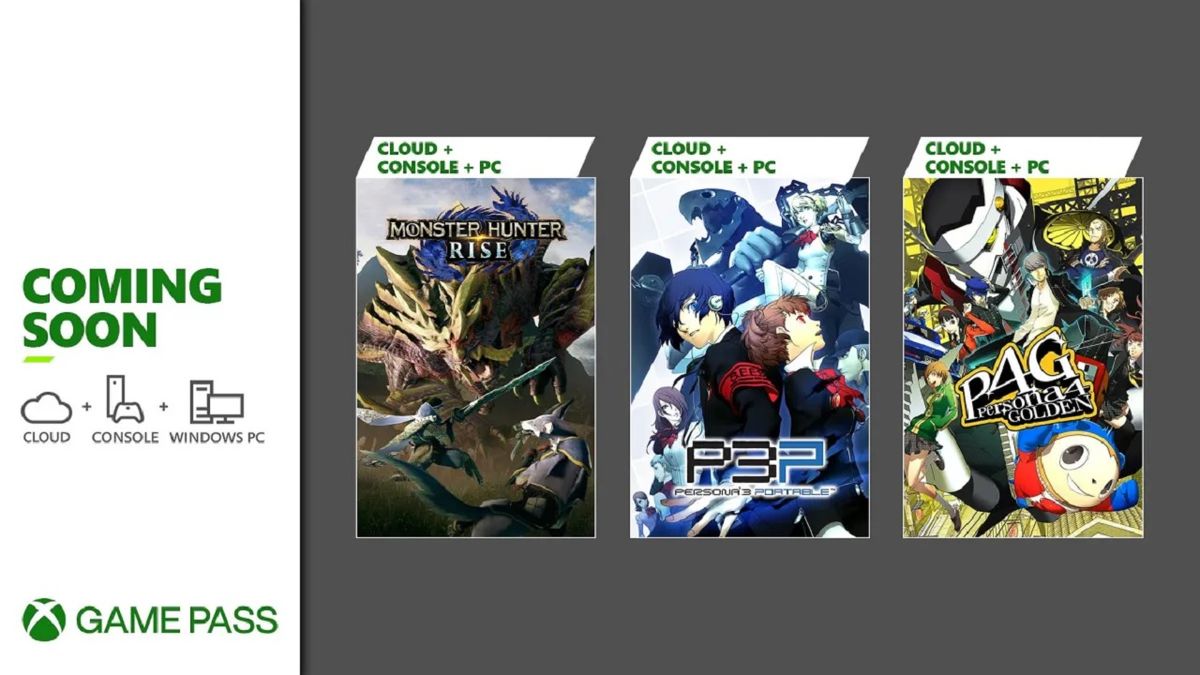 Xbox Game Pass will be getting not one, but two Persona games this month, along with Monster Hunter Rise. 
Announced on January 10, Persona 4 Golden, Persona 3 Portable, and Monster Hunter Rise will be joining Xbox's subscription service between January 19 – 20. All three of the new titles will be available on both Xbox One and Xbox Series X, as well as PC, once they've been added to the service. 
SPOILER ALERT: games coming soonhttps://t.co/gpHelYw5zk pic.twitter.com/Mnq5uoteSIJanuary 10, 2023
See more
Following the addition of these two Persona games, Xbox Game Pass will now have three Persona games under its belt with Persona 5 Royal already available to play on console and PC. If you didn't know, Persona 4 Golden is an "enhanced" version of the original Persona 4 title from 2008 which was first released for the PSP. Now, 15 years later, it's about to be playable on Xbox Series X and Xbox One as well as Nintendo Switch, and PS4. 
As for Persona 3 Portable, as you may have guessed this game was another "enhanced" version of the main game specifically developed for the PlayStation Portable back in 2009. Just like Persona 4 Golden, a port of P3P will be available on Xbox consoles, Nintendo Switch, and PS4 on January 19 – the same day both games will be added to Xbox Game Pass. 
Lastly, we'll also be getting a Monster Hunter game on Xbox Game Pass, more specifically Monster Hunter Rise. This installment of Capcom's action-adventure series originally started life exclusively on the Nintendo Switch before being released on PC. Just like the Persona games above, it is now set to release on PS4, PS5, Xbox Series X/S, and Xbox One a day later on January 20, 2023. 
As with every new Game Pass addition, comes a few departures. A full list of the games leaving the service can be found on the Xbox website (opens in new tab) but to name a few, subscribers soon won't have access to Danganronpa: Trigger Happy Havoc, Pupperazzi, We Happy Few, or Windjammers 2 by January 15. So if you were eager to play any of these games, you better get on it fast. 
Want to know what games we can look forward to this year? Find out what's going to be big in 2023. 


This news is republished from another source. You can check the original article here