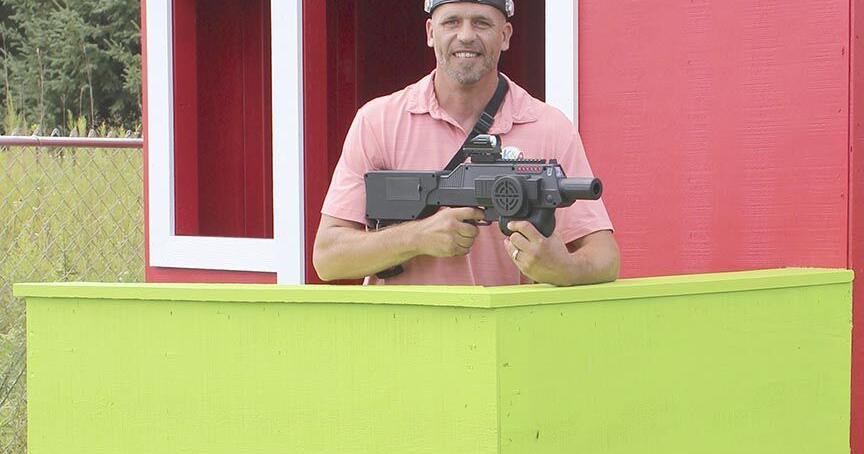 In 2019 K&A Mini Golf opened its doors as an inclusive place for families to spend time together in Cambridge. Located at 215 Opportunity Blvd. N., K&A's one-acre mini golf course is ADA compliant so that even those with physical limitations can enjoy playing golf with their friends.
When you walk into the K&A building you are greeted by a concession counter offering ice cream from Big Dipper Creamery (guess the mystery flavor and you could win a season pass—hint it's not Fruit Loops or Dreamsicle). Arcade games line the walls and there's a large party room to the right. Since opening, they've included mini golf, volleyball, and a water balloon game called Water Wars. Now, this hub of kid-friendly activities has added a 30-foot by 120-foot laser tag course.
Owner Mike Hout says they chose a laser tag gaming system based on the successful video game franchise "Call of Duty." 
"I wanted the laser tag to be as family-friendly as possible," Hout said. So they passed on game systems with more realistic looking guns.
The laser weapons used by players at K&A simulate game controller actions that video gamers will be familiar with such as sounds and vibrations. 
There are many different game modes to choose from like "Infected" which is a true tag-style game where the player who is "infected" tags other players adding them to their team, a Free for All mode, and the most popular Team Death Match where two teams compete against each other for the most points.
To ensure everyone gets their moneys worth out of the experience, players who are hit during the game aren't out of the game. They can "re-spawn" — essentially given another life — so they can rejoin the game as many times as they want for the full 30 minutes of play.
Currently, the course can accommodate up to 12 players. There are four buildings on the laser tag course perfect for two teams. Hout said there are plans to expand the course next year to include a two-story tower and a larger playing field. They also hope to include large viewing screens so people can watch all the laser tag action.
Originally, Hout had hoped to open the laser tag course last June, but the chip shortages delayed the shipment of the high-tech laser guns. Now that their entire arsenal has been shipped, the grand opening of the laser tag course will be this weekend, Aug. 13 and 14.
Birthday party packages are available at K&A and laser tag can be added to the package for an additional fee. Laser tag birthday parties can even be booked for the winter months.
There are no age restrictions to play laser tag, but there is a 48-inch minimum height requirement because the laser equipment is so large.
A round of laser tag is $12.50 for 30 minutes of continuous gameplay, however during the grand opening this weekend there is a buy three games, get one game free special.
To book a birthday party or reserve a laser tag time contact K&A at 763-689-3619 or by email at hello@kaminigolf.com.
This news is republished from another source. You can check the original article here