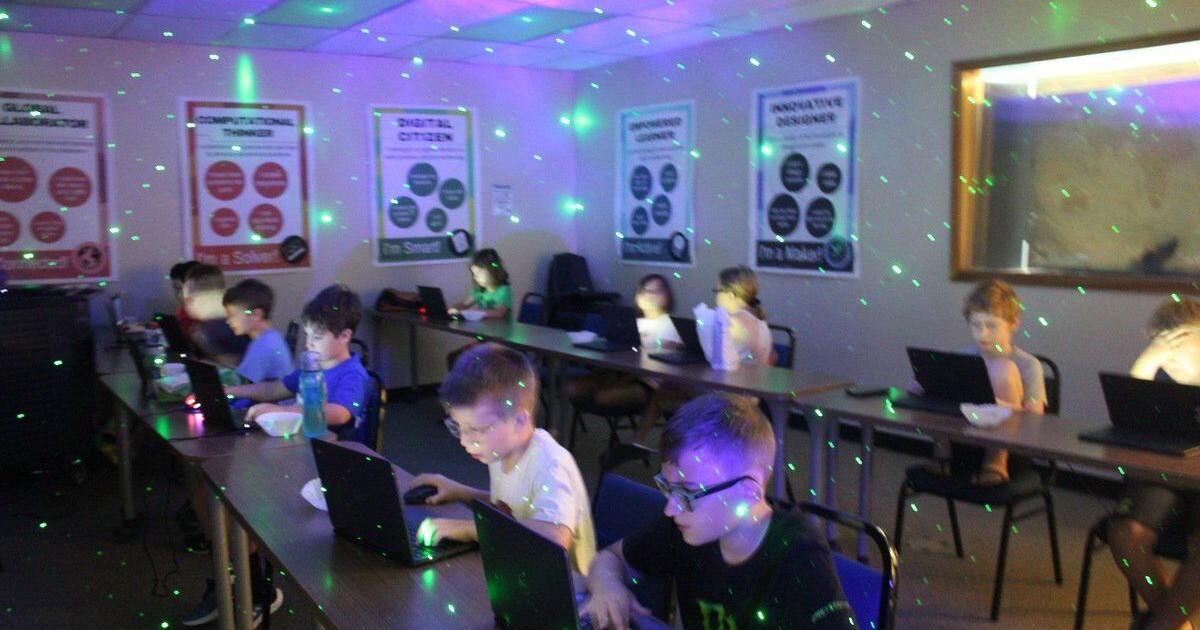 During the Advanced Minecraft camp this week, kids didn't just play a video game. They collaborated and took on challenges to tackle problems, build structures, and have fun together in the virtual world.
This gaming camp was one of several Summer Academy sessions that took place this week, organized by the Northeastern State University's Innovation Discovery Education Academy and ASL's Community House. And as teacher David Fuller said, it's been around for a while.
"We have been doing Minecraft for 10 years," said Fuller. "It is the anchor of the camp."
For those unfamiliar with the sandbox-style video game, Fuller provided a description.
"So it's a first-person game where you go into a world, which is the Minecraft world, and the first thing you have to do is create your environment," said Fuller. "You have to find certain items to build your home, or your house, or your crafting table, so it's a lot of trial and error."
Fuller explained that in Minecraft, players have to combine objects they find to create new items, tools and structures to aid them in their survival in this not-so-peaceful world.
"However, during this process, you're being menaced by a variety of agitators, creepers and other things," said Fuller. "It's not just knowing what to do and how to do it. You basically have to stay alive."
How does this game translate into camp activities?
"We don't just play the game," said Fuller. "It's tied to a fun, educational purpose."
Fuller described some of the learning experiences he has put the kids through.
"We throw them on an island and have them get the things they need to survive over the course of the [camp] day," said Fuller.
The campers also complete building challenges, wherein they have an hour to create something in creative mode – a game mode that gives players greater freedom to fly and build whatever they want, with unlimited access to all materials. These creations are later judged.
But it isn't solely an adventure for player one; Fuller stressed the importance of the camp's social component.
"[There is] socialization with other the kids," said Fuller. "We do team-based things where they can collaborate."
The Advanced Minecraft Summer Academy session was geared toward older children more experienced with the game, ages ranging from 7-13 in this week's group. In a darkened classroom on Wednesday, lit by the glow of laptops rows, several campers expressed how much they enjoyed the camp, like Blake Searcy.
"I love it. It's really fun," said Blake. "I'm getting ready to chop a tree down."
Teamed up with Blake, camper Rhett Williams chimed in.
"We are building a big house," said Rhett.
Down that aisle, Luke Searcy described his current play session.
"I'm in a world where some one gives me a bunch of items," said Luke. "I'm going to kill the mobs as they spawn."
In this game mode, mobs are groups of enemies that attack the player in waves.
Blake and Luke Searcy said they have been to the Minecraft camps at IDEA a couple times now. An outreach program of NSU's College of Education, the Innovation Discovery Education Academy is centered on teaching robotics and STEAM, described on its webpage as "an opportunity for children of all ages to explore and discover robotics, science, technology, engineering, arts and mathematics."
Check it out
For more information on IDEA, visit: https://coe.nsuok.edu/Outreach/RoboticsAcademy/default.aspx
This news is republished from another source. You can check the original article here