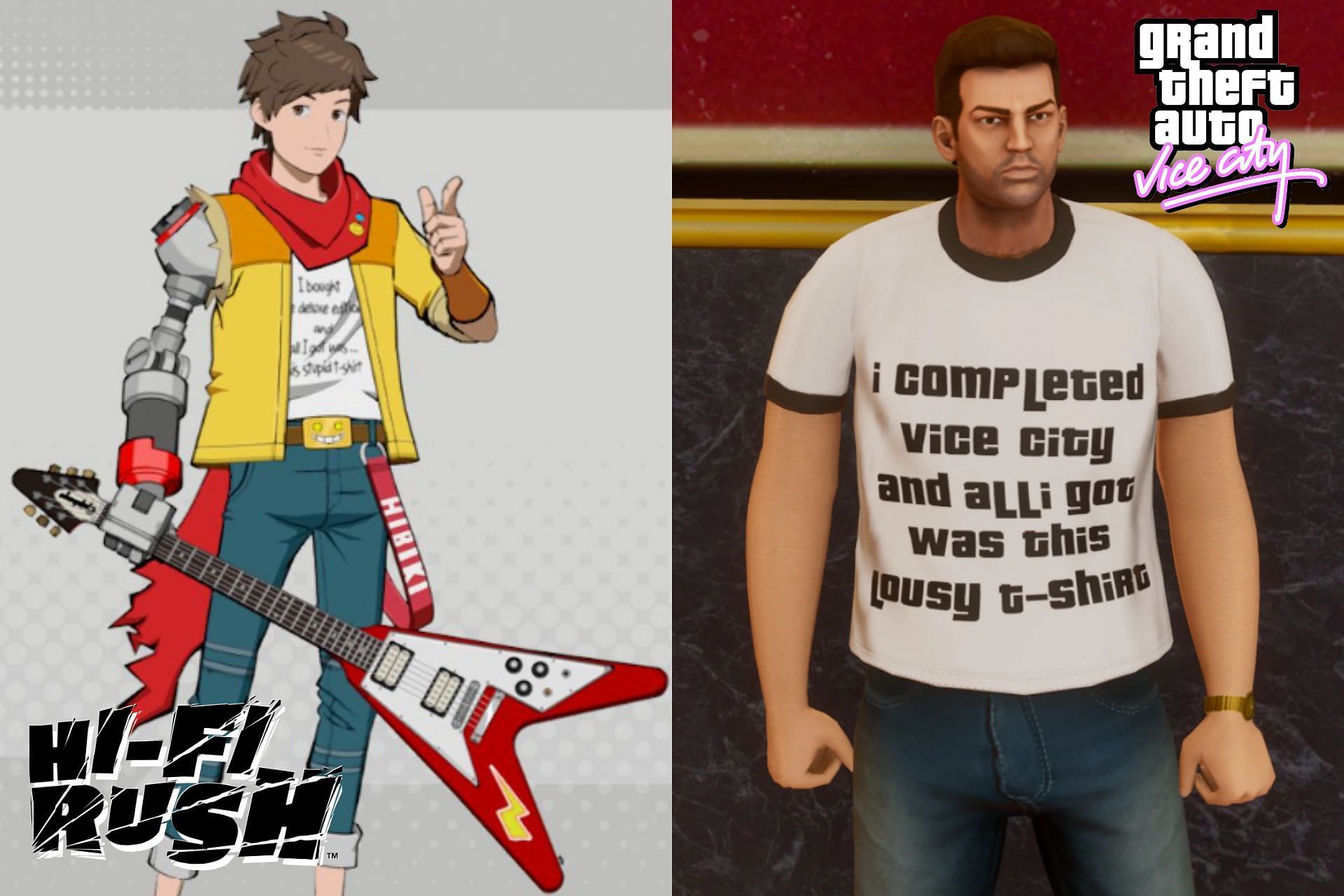 Grand Theft Auto is one of the most popular video game franchises, and one of its entries, GTA Vice City, has cultivated cult status. While Rockstar Games is known for including Easter Eggs in its games, other developers have also included references to Rockstar's titles in their games.
In a recently released Xbox and Windows PC game called Hi-Fi Rush, players discovered an Easter Egg referencing the popular 2002 title, Grand Theft Auto: Vice City. Developer Tango Gameworks included a subtle reference to one of the rewards that players receive after completing Vice City.
Although the Easter Egg has its own in-game twist, fans quickly realized it was a Rockstar Games reference.
---
Fans discover a GTA Vice City reference in the latest Hi-Fi Rush game
On January 26, 2023, a Twitter user named Tervel shared an image where they discovered a t-shirt referring to Grand Theft Auto Vice City in the Hi-Fi Rush game. The developer included a white t-shirt that has the following text inscribed on it:
"I bought the deluxe edition and all I got was…this stupid t-shirt."
The t-shirt is labeled as the "Proof of Purchase" T-shirt, and Hi-Fi Rush players can use it to personalize their protagonist.
On January 29, 2023, a well-known GTA data miner, InfinityBesk, confirmed the Easter Egg and shared the Vice City equivalent source. The user posted two images, one of which shows the main character, Tommy Vercetti, wearing a white t-shirt with a similar text pattern.
The text on Tommy's t-shirt reads as follows:
"I completed Vice City and all I got was this lousy t-shirt."
As previously stated, the t-shirt is one of the unlockable rewards that Rockstar Games gives to players when they get a 100% completion in Vice City. It is known as the Frankie Outfit and can be obtained from the Vercetti Mansion.
It is also available in the Definitive Edition of the game and can be unlocked after reaching the aforementioned threshold.
---
GTA 6 and Vice City Easter Egg in Grand Theft Auto Online
While other titles make numerous references to Grand Theft Auto games, Rockstar includes teases and Easter Eggs for its own games as well. Fans discovered a Vice City reference in one of the latest in-game apparel in GTA Online, which also refers to the upcoming installment in the series.
On January 26, 2023, Gaming Detective, a popular Rockstar Games informer, tweeted that the recently released Downtown Cab Co. Revere Collar shirt is an official reference to GTA 6.
The title will almost certainly take place in Vice City, and the shirt features a repetitive skyline pattern that does not appear in GTA Online but is vaguely similar to the earlier Miami-based title.
For comprehensive guides, walkthroughs, character information and more, check out SK GTA Wiki


This news is republished from another source. You can check the original article here