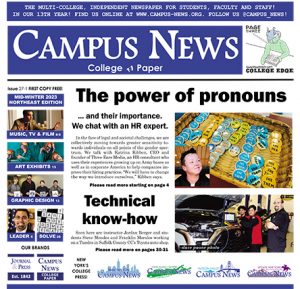 SUNY Canton is continuing its exceptional reputation as a leader in esports.
The National Collegiate Scouting Association (NCSA) recently noted SUNY Canton in its Best Colleges for Esports list. The college was 33 on the public list of 100 entries and boasted the lowest tuition of any university. The organization analyzed more than 250 colleges with esports programs from across the country to develop a list designed to help prospective students and student-athletes.
"It's an honor to be grouped with so many prestigious colleges and universities on the top 100 esports list," said SUNY Canton Athletic Director Randy B. Sieminski. "SUNY Canton has been a leader in all aspects of esports and its growth, adding an esports major and a new esports residence hall wing. We take great pride in being the top-ranked SUNY school and among the best in the nation."
The college currently offers intercollegiate gameplay for 100 students in 13 titles. The most popular games currently are, Nintendo's Super Smash Bros. Ultimate, Riot Games' Valorant, Riot Games' League of Legends, and Blizzard Entertainment's Overwatch. According to SUNY Canton Esports Coordinator Charles W. Murray, six teams have made it to the semifinals in either the Eastern College Athletic Conference (ECAC) or the SUNY Esports league.
"We are continuing to hold our own against our peer colleges and much larger universities," Murray said. "Our most recent wins come just a year after our League of Legends team took home second place in the ECAC, and just a handful of years after our first and second place season wins in Overwatch."
Murray also serves as the commissioner of SUNY Esports, which began in the fall of 2020 with 600 students from 45 campuses. It has since grown to approximately 2,900 students from 54 campuses. "SUNY Esports was founded and is operated by SUNY Canton," Murray said. "As a frontrunner and a lead innovator, we have been able to help other colleges start programs of their own."
SUNY Canton launched its varsity esports program in the spring of 2018 to complement its new four-year Game Design and Development program. At the time, it was the first college in SUNY with a varsity esports program and among a select few in the state to compete nationally. The following fall, the college unveiled a brand-new Esports Arena and partnered with Extreme Networks and Alienware to outfit the 1,800-square-foot dedicated gaming space.
In 2019, the college announced a new four-year program in Esports Management to prepare students to join the fast-growing industry of competitive video games. In 2020, the college helped orchestrate a SUNY-wide Tournament during pandemic-related shutdowns, which was a precursor to SUNY Esports. SUNY Canton created an Esports Residence Hall Wing in 2021, offering video game enthusiasts an immersive on-campus experience.


This news is republished from another source. You can check the original article here