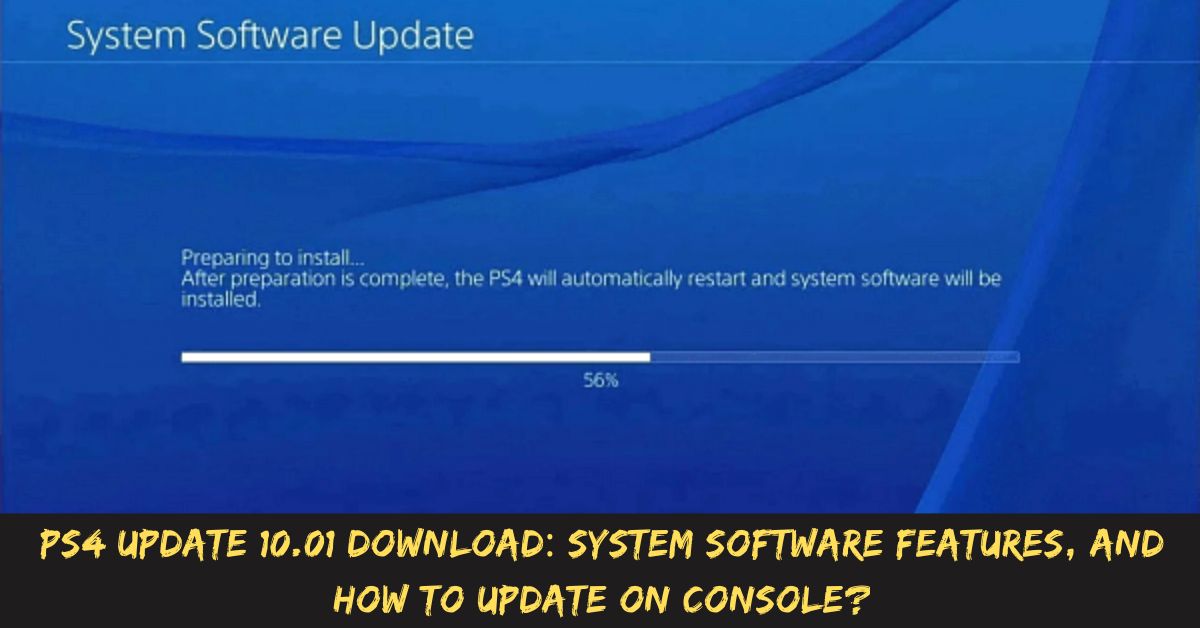 PlayStation 4 system update 10.01, made available by Sony Interactive Entertainment, accomplishes precisely what you'd expect it to. The most recent PS4 firmware is just another "This system software upgrade improves system performance" update, thus there's no new content. That being said, given the console's current age, it's not surprising.
New social capabilities and 1440p resolution support were among the additions included in Sony's newest system update for the PS5 which was launched the first week of September. New Remote Play functions were introduced alongside PS4 system version 10.0, which came out around the same time.
Continue reading:-
The PlayStation 4 was introduced in the United States and the United Kingdom in the month of November 2013, while it arrived in Japan in the month of February 2014. Even though Sony is currently producing a number of significant titles for the system (such as the upcoming God of War: Ragnarok), we anticipate that this number will gradually decrease.
PS5/PS4: New Webkit vulnerability seems to impact PS4 Firmwares 8.00 to 10.01, and PS5 1.00 to 6.50

Link test https://t.co/IfG6ICY74e pic.twitter.com/msbaJOsM6U

— THE WOLF HACK (@mohammad_fadel1) January 15, 2023
Playstation 4 Version 10.01 System Software Features
This update to the system software boosts performance.
Two distinct zoom options have recently been integrated into popular web browsers.
"Zoom" allows you to enlarge the page's elements while maintaining their arrangement, eliminating the need to scroll horizontally.
When you click "Magnify," everything on the page gets bigger without changing its format in any way.
The current maximum magnification is 500%. All of the following have been revised for use with Remote Play.
The PS Remote Play software has been updated so that the keyboard on a computer may be used with more ease.
Now you may use your keyboard to enter directly into your PS5 or PS4 without having to use the text entry box. The keyboard is not just used for typing but also for controlling games that have this option.
PS4 Update 10.01 Download And Update the Firmware on Your Ps4 Console
You can resume the update process if your PS4 console's software installation gets stuck during an update. If it doesn't work, grab the update file from below, save it to a USB device, and run it like normal.
🔥New PS4/5 webkit exploit tested on the PS4 10.01 and PS5 6.50 firmwares , more information about test Firmwares with this new webkit exploit here on the telegram channel👇https://t.co/AY2DTtvM1r pic.twitter.com/Qpx89uLcJd

— SALT (@salt13939424) January 13, 2023
Similar posts:-
Update Manually
Make a PS4 folder on a FAT32-formatted USB drive using a computer running Windows or macOS. A subfolder titled "UPDATE" should be made inside that main folder.
Select the "DOWNLOAD" button below to save the updated file to your computer's "UPDATE" folder. Don't forget to name the file "PS4UPDATE.PUP" when you're done.
You can access the file on your PS4 by inserting the USB device holding it.
To enter Safe Mode on a PS4, press and hold the power button until the second beep, then release.
Click the third option, "Update System Software," once Safe Mode has loaded.
Click the Update from USB Storage Device > Accept button.
Verify that the folder and file names are right if the PS4 does not identify the file. Ensure that you only use uppercase letters when entering folder and file names.
Final Words:- We hope you have found all the relevant information about the PS4 Update 10.01 Download: System Software Features, and How to Update on Console? For more latest news and information stay tuned with us.
Frequently asked questions
How do I fix my PS4 not updating?
Instead than relying on automated updates to keep your PS4 up to date, try updating it yourself. If this succeeds, the issue may be resolved, and any necessary future changes will be implemented mechanically. You may also try installing the update in Safe Mode or deleting the alerts.
Can a PS4 update without WIFI?
To turn on your PlayStation 4, press and hold the power button for seven seconds. In order to update your PS4 without an internet connection, you must first boot the device into safe mode, which is initiated by pressing this button. Proceed as directed.


This news is republished from another source. You can check the original article here