With the benefit of hindsight, it was always going to be television and not film where the first genuinely authentic video game tie-in would happen. The format of the ongoing drama series, with its capacity for multiple character and narrative arcs, as well as its extended running time, aligns much more closely with how games actually function. Even so, I am surprised by just how brilliant episode one of The Last of Us (HBO in the US, Sky Atlantic in the UK) is. It beautifully weaves the conventions of both TV and games into one gripping experience, using subjective camera shots to put us into the viewpoint of characters (like a game), while also toying with depth of field in a very televisual way to blur out background details for thrilling effect (oh god, the shaking granny!). Ever the optimist, I'm thinking that maybe – maybe – this series (pictured below) has unlocked a new set of multidisciplinary tools that will enable other TV and game makers to collaborate on exciting dramas.
So, what next? Yes, we're only on episode one, but you can bet there are TV producers and video game creative directors looking at the critical acclaim handed out to the series and thinking, hmm, I fancy a piece of that. We know that TV productions based on Life Is Strange, God of War and Horizon Zero Dawn are on the way. What else would work?
OK, I'm just going to come out with it: Silent Hill. I know, I know, the movie adaptations were awful and there is another one to come, but this tense, horrifying psychological horror franchise would work brilliantly as an anthology series in the style of American Horror Story – a gruelling metaverse of interconnected tales, all revolving around this one cursed town. All the ways in which Silent Hill scares us, from the radio static, to the randomly moving objects, to the Freudian monsters lurking in the shadows, would work in a linear drama. And the ability of modern TV creatives to seamlessly intercut timelines and story arcs (The Dark, Midnight Mass, for instance) would make it seem more open and game-like.
Or how about a Broken Sword series, following the adventures of patent lawyer George Stobbart and journalist Nicole Collard as they uncover centuries-old Knights Templar mysteries? This concept has a lot of on-trend elements – exotic locations, conspiracies, relatable heroes, irony-laden dialogue – and the intricate puzzle element of the stories is something that's been revived by Rian Johnson's Knives Out films. There are also five games in the series that gives TV makers the thing a lot of narrative games don't: longevity beyond a single season. I also hope it might lead the way to an influx of puzzler-based TV shows including The Last Express, Professor Layton, Under a Killing Moon and my ultimate dream: a shot-for-shot remake of Sierra Entertainment's seven-disc full-motion-video classic Phantasmagoria. Alright, I'm getting silly now.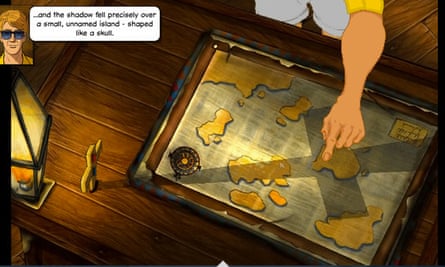 One thing modern TV dramas really need is expansive world-building – viewers today require a fully fleshed out universe that can work beyond a single character arc and support a multitude of interconnected narratives. The Last of Us adaptation pulls in character threads that the game only lightly touched on, because it has the time, and because – without interactivity – the breadth of the narrative becomes more important. One series that would be amazing for this is Yakuza. The bizarre sprawling adventures of underling gangster Kazuma Kiryu in the Tokyo underworld of the 1980s gives us a beautifully realised world of neon-lit back alleys, karaoke joints and thug hangouts, weaving in multiple stories. Grand Theft Auto would be more obvious, but a TV version of Yakuza could be The Sopranos of the 2020s.
My own personal choice for a TV adaptation, if I had a network and a lot of money, would be a Portal/Half-Life hybrid. The lucky production studio would get an amazingly realised universe with a very prescient antagonist (the evil AI, Glados) and an engaging backstory involving two extremely popular contemporary archetypes: the problematic billionaire and the highly suspicious technology firm. But one would also get the chance to completely flesh out the main characters of Chell, Freeman and Alex, and interconnect the worlds of the two linked franchises. There would be elements of Westworld, Severance, The Peripheral and Handmaid's Tale. It could go on for several series – and one would get to write an actual ending.
While all of these ideas might seem foolishly ambitious, The Last of Us has opened a door to mature, sophisticated and inclusive screen storytelling that respects both media. That feels exciting – and as if new things are possible.
What to play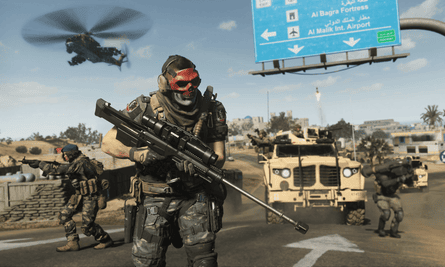 I am still obsessed with Call of Duty: DMZ, the shared-world online shooter mode that comes with Modern Warfare II. Dropped on to a sprawling landscape of cities, factories and rural wastelands, you have to carry out a number of missions against AI enemies while looking out for other player teams operating in the same environment. It leads to some enthralling emergent narratives as you scramble to your escape helicopter knowing complete strangers are tracking you down. I also love the ad-hoc friendships that develop with other members of your squad. Yes, it borrows a lot from titles such as Escape from Tarkov and DayZ, but it combines them with sharp visuals, knee-jerk action and technical brilliance. A modern wonder of mainstream action gaming.
Available on: PC, Xbox, PlayStation
Approximate playtime: As long as you like
What to click
The Last of Us review – one of the finest TV shows you will see this year
Sports Story review – all the charm of a forgotten SNES classic
Babbdi review – a moody urban wander straight off a PlayStation 1 demo disc
One Piece Odyssey review – the pirate adventure that manga fans deserve
What to read
Question block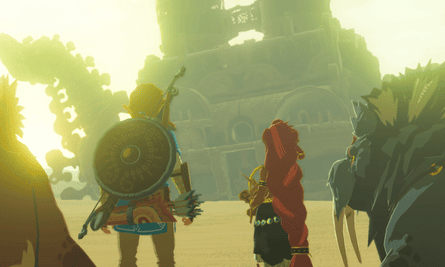 Keza answers a question sent in a while back by reader Ant: "I make game trailers for a living – what are some of your favourites?"
For most people, the best game trailers are probably the ones for games that they are most excited about, regardless of content, so I won't go on about Nintendo's trailers for Twilight Princess (it looked so real! Even though I was watching an impossibly low-res version via 2004 internet!) or Breath of the Wild (so much excitement in 44 seconds). I remember the Final Fantasy VII remake trailer vividly, because I couldn't quite believe it was happening. The 2011 trailer for the original Dead Island was a stunner, a reverse-chronological emotional gut-punch that wildly mis-sold the tone and quality of the game that would eventually result – I was working at IGN when that came out, and it was one of our most-viewed pieces at the time. This question has made me realise that I've seen so many game trailers that they've all blurred together into one long action supercut with a dramatic orchestral score – in our media-saturated age, it takes a lot for a single trailer to stand out.
This news is republished from another source. You can check the original article here