Veteran British esports journalist, host and personality, Richard Lewis, has announced he's retiring from esports.
"Where were you when the fun stopped?" Richard Lewis asked in the headline of his latest YouTube video on the Richard Lewis Clips channel, a nod to an old column by Hunter S. Thompson.
The Dexerto editor-at-large went on to describe how he no longer has fun in the esports industry anymore, and has grown tired of it.
"I've been trying to take stock of where I am in life, I'm getting old and there's a ton of stuff I want to do," Richard said. "I'm gonna do less stuff that stresses me out and try and find something I enjoy.
"When was the last time esports was fun for me? Probably after the Major in Boston in 2018. "It's not been fun for a long time. The industry is garbage, I hate it and I came to the conclusion of just how much I hate it."
He said someone had recently asked him if he'd like to host a major, and he told them: "Not only can I think of nothing worse, I realise with each passing day I've wasted the best years of my life on an industry I cannot stand for the most part. So, no, thank you very much. I'm definitely retired."
This means the PGL Major from 2021 will be the last Major that Richard Lewis has worked on.
Richard also won't be on the By The Numbers podcast anymore, but will be on the Four Horsemen podcast as a guest and will still share his opinions about esports. He'll also finish up the big reports he's been working on before stepping back.
He also spoke about deciding not to go through with a long-term content creation project with Thorin and Montecristo, as he no longer sees himself having a future in esports, as well as being 'sorted into the bad column' by parts of the community, and having to deal with people mass-reporting his streams.
Richard Lewis has also held the No Majors Club, and recently arranged one for the Antwerp Major in May.
"I'm out – I'm gonna start extricating myself from this wretched, festering carcass of a scene that is completely unrecognisable from the esports I started working with," Richard said.
His announcement comes just over a year after Richard Lewis first publicly contemplated retiring from esports, where he hinted that he would likely leave esports behind in the next year or two.
A few months ago, Richard Lewis outlined his plans for 2022 and spoke about entering 'goblin mode', being hunched over a keyboard and working hard in his bid to win another Esports Journalist of the Year award at the 2022 Esports Awards.
"I want to win my third esports journalist of the year award this year – and then definitely retire, 100%," he said.
"I just feel like winning it twice and being the only journalist who has a lifetime achievement award is good, but winning a three-peat, getting up on stage to accept it, calling out all game developers for taking money from murderous regimes, doing this (puts three fingers to his chest) so I end up on Kotaku as having flashed a racist symbol, when of course it's just me saying the number three… all of that is exciting to me."
In 2019, Richard Lewis used his Esports Journalist of the Year winner's speech to call out the likes of Polygon and Kotaku – games media websites that started covering esports in recent years.
In particular, he questioned their motives and criticised their esports coverage.
Richard Lewis won his first Esports Journalist of the Year award at the 2016 event.
'You haven't failed, Richard, the industry has' – comment
Richard Lewis' influence will be present in esports journalism for years to come, writes Esports News UK editor Dom Sacco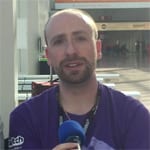 This is a sad day for esports journalism.
Richard Lewis has been an inspiration to me and I'm sure many others over the years.
When I first set up Esports News UK, I wrote a news piece about his comments on UK esports needing to be 'nuked from space', which led to him reaching out to (a very nervous) me for a discussion show on how to fix UK esports.
That was six years ago.
Just the other week, his piece, titled 'Why ESL must get rid of the US Air Force sponsor,' inspired me to write a UK follow-up, on whether the British Army should be allowed to exhibit at UK gaming festivals like Insomnia. He's still influencing me. He says he wants to slip into irrelevance, but I think it'll take some time yet before he does so.
I can see his influence in other, younger esports journalists too, from Adam Fitch, to Tom Matthiesen, Luís Mira and others.
His bravery and attention to detail in his reporting, his fire and focus on calling out bad actors and striving to make the esports industry better is something we can all learn from.
Sure, he's had a moan, he's got into arguments with people on Twitter, he's thrown names, he's blocked trolls, and has acted with emotion at times when dealing with abuse, criticism or hit pieces. I probably would too if I had to deal with the kind of things he has.
He's pissed plenty of people off – but that comes with the territory in journalism. I don't think I've pissed enough people off. Some say it's let him down, that it's undermined his reporting in some way. But that's who he is, and is part of his character. They won't admit it, but some of those haters will miss him when he's gone.
People seem to be so focused on the drama, they don't always see his empathetic side. But I remember things like that. Like when he defended Frankie Ward over the unwarranted criticism she received at the Dota 2 International last year. Or when he's empathised with esports players who have made mistakes or battled their own demons.
He's also helped journos like me with advice over the years – I still reference this video of his on esports journalism when I talk to wannabe journos.
And let's not forget his doodles shows with Sam.
I also resonated with his video on a personal level. It's made me take stock and think about the next five to 10 years of my career.
I too am an ageing editor in a fast-moving esports industry. I don't want to be interviewing young talent when I'm 40 years old at Insomnia Gaming Festival. I don't enjoy the stress and drama the scene brings. Sometimes I think of packing it all in and taking up a job outside of gaming, so I can enjoy it as a hobby once again. So maybe I'll do a Richard Lewis in the future and get out while I can, too.
Whatever happens, I'll still be following Richard and seeing what he gets up to next. I'd love to see a book from him – I bet he has many esports stories yet to share.
From us at Esports News UK, and me personally, thank you for your services to esports journalism Richard, and for inspiring other journos like me. Don't be a stranger.
Lastly, it hurts to hear Richard sound defeated, to say that he's failed. No, you've not failed Richard, you've done your job. The industry has failed. Failed to learn from its collective mistakes, to listen to the community, to do what is right for its future.
It's up to us other journos and personalities now, to carry the torch, to call out those who need to be called out, to identify the rot and decay in esports' carcass, to try and put it on life support and bring it back to some kind of life.
There's plenty of us to attempt the job, but there's only one Richard Lewis.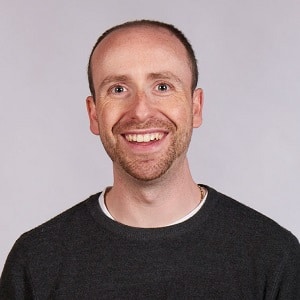 Dom is an award-winning writer who graduated from Bournemouth University with a 2:1 degree in Multi-Media Journalism in 2007.
As a long-time gamer having first picked up the NES controller in the late '80s, he has written for a range of publications including GamesTM, Nintendo Official Magazine, industry publication MCV as well as Riot Games and others. He worked as head of content for the British Esports Association up until February 2021, when he stepped back to work full-time on Esports News UK and as an esports consultant helping brands and businesses better understand the industry.


This news is republished from another source. You can check the original article here