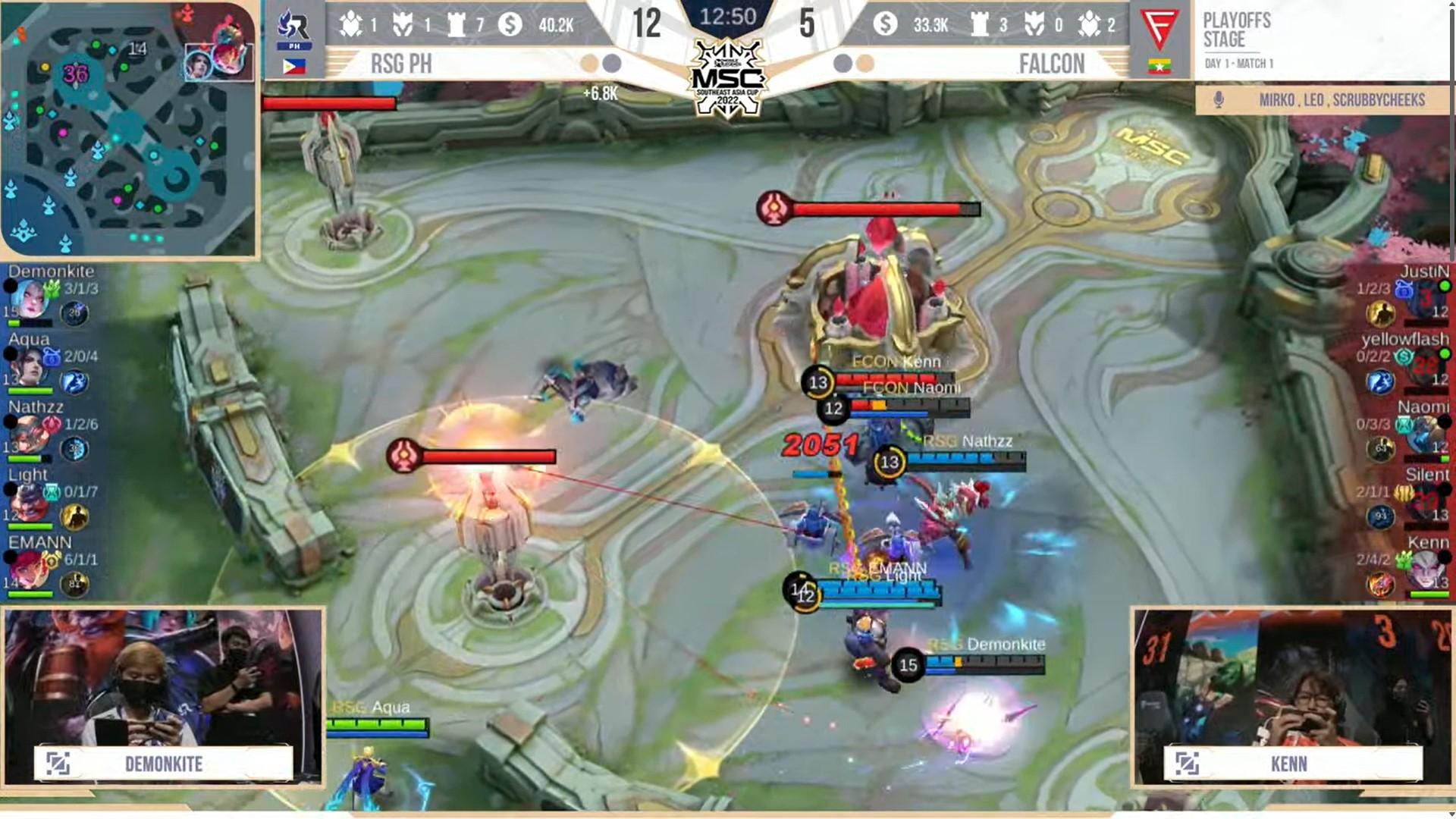 RSG Philippines flirted with disaster before emerging on top of a dangerous Falcon Esports team, 2-1, to reach the top 6 of the Mobile Legends: Bang Bang Southeast Asian Cup (MSC) 2022.
They had to endure a painful comeback loss in Game 2, their first match loss in the tournament, before playing a meticulous Game 3 to secure their spot in the upper bracket semifinals. They will next face the winner of the match between Malaysia's Orange Esports and RSG Singapore for a place.
In Game 1, Falcon successfully scored early game pickoffs owing to Min "Naomi" Ko ko's (Selena) abyssal arrows but RSG displayed impressive resource management in negating the early game 7-3 kill deficit and hold on to a slim net worth lead.
The game was pretty much equal until Falcon once again caught Jonard Cedrix "Demonkite" Caranto (Ling) in the 10th minute via Naomi's abyssal arrow, but RSG easily flipped the teamfight into a 3-1 exchange to take control of the match.
Nathanael "Nathzz" Estrologo's Esmeralda mastery then came in full display as he dove deep into Falcon territory to pick off Silent (Beatrix) in the 13th minute that kickstarted a 2-0 wipe to secure the luminous lord, 1-0.
The Filipinos then managed to secure Dylan "Light" Catipon's signature Franco in Game 2 that delivered quick dividends right away in leading a 4-1 tradeoff in the 2nd minute then piloting a dominating 3-0 wipe in the 3rd minute to command control from there.
But the Burmese squad refused to succumb to the pressure and fended off numerous sieges from RSG and waited until Pyae Sone "JustiN" Khant (Johnson) executed a pinpoint Rapid Touchdown set-up on Eman "EMANN" Sangco (Brody) in the 18th minute that resulted into a 2-0 takedown for the enhanced lord.
Falcon's Kenneth "Kenn" Hein (Lancelot) then showed nerves of steel in securing an all-important evolved lord in the 28th minute then leading the ensuing 2-0 wipe that forced the rubber match, 1-1.
RSG engaged the Burmese into a chess match in Game 3, where they snagged away Beatrix and banned out JustiN's signature Johnson pick – two picks who both played the key roles in the Game 2 Burmese win.
Falcon initiated a conceal play in the 12th minute where Naomi (Franco) executed a flicker + Wild Charge set-up on EMANN (Beatrix) only for the latter to evade and punish the Burmese roamer.
RSG used the pick off to mount the pressure and managed to score two more takedowns led by Light's hook on Hein Min "yellowflash" Khant (Esmeralda) in the bot lane Followed by Demonkite (Karina) and Arvie "Aqua" Antonio (Cecillon)'s midlane combo on Silent (Irithel) that gave them the series closer.
—JMB, GMA News


This news is republished from another source. You can check the original article here