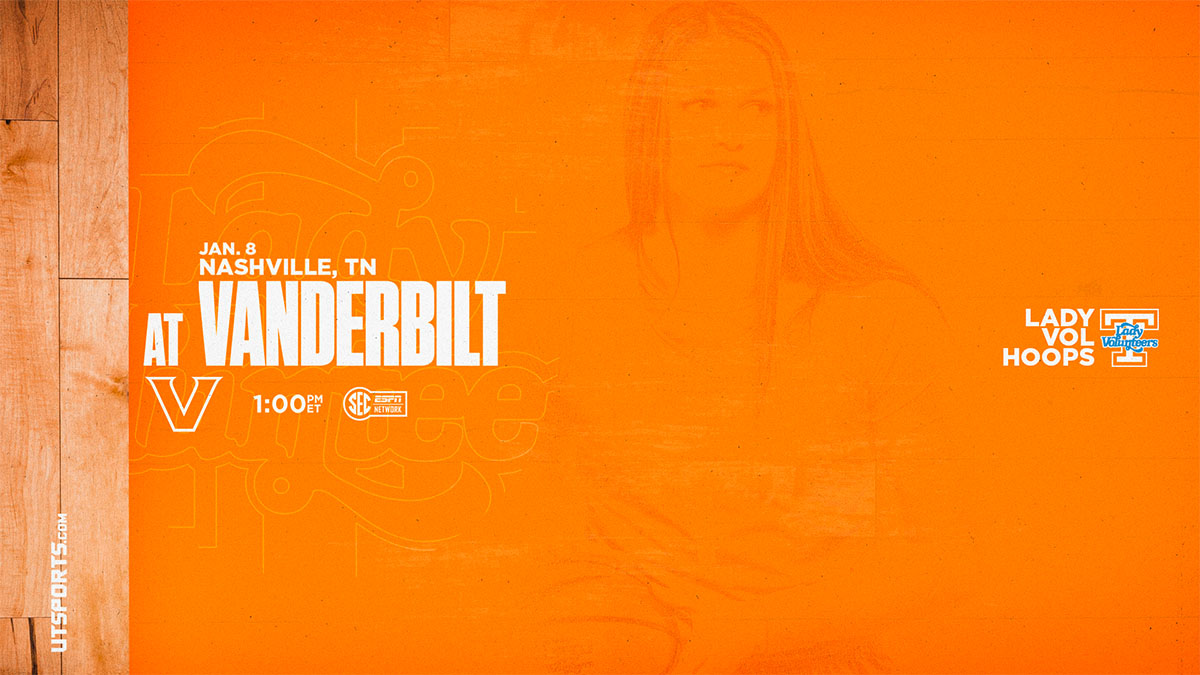 Tennessee (11-6 | 3-0 SEC) at Vanderbilt (9-8 | 0-3 SEC)
Sunday, January 8th, 2023 | 12:02pm CT/1:02pm ET
Nashville, TN | Memorial Gymnasium | TV: SEC Network
Knoxville, TN – The Tennessee women's basketball team (11-6, 3-0 SEC) travels to Nashville, where it will clash with in-state rival Vanderbilt (9-8, 0-3 SEC) at 12:02pm CT (1:02pm ET) Sunday in Memorial Gymnasium.
The Lady Vols and the Commodores will meet for the 87th time in a series that dates back to 1976, with UT holding a 76-10 advantage and winning 14 of the past 15 match-ups.
Through three games, UT remains tied atop the SEC standings along with South Carolina, LSU, Ole Miss and Missouri, while Vandy currently is slotted in 11th place along with three other teams. Kellie Harper's squad enters on a four-game winning streak and has been victorious in nine of its past 11 contests, with its only two losses coming vs. (then) No. 9/9 Virginia Tech (59-56) on December 4th and at No. 2/2 Stanford on December 18th (77-70).
On Thursday night in Knoxville, Tennessee stayed unbeaten in league play by taking care of Mississippi State, 80-69, with Jordan Horston carding 13 points and nine rebounds of her 27/14 double-double in the fourth quarter to stave off a challenge by the Bulldogs.
Tennessee improved to 9-2 at home this season with the victory over MSU and will head to Music City for only its fourth true road contest of the campaign. The Lady Vols opened SEC play on December 29th with a 77-67 triumph over Florida, but they dropped road contests at No. 3 Ohio State in the opener on November 8th (87-75) and fell at No. 2 Stanford (77-70) on December 18th to stand 1-2 away from the friendly confines of Thompson-Boling Arena entering Sunday's midday matinee.
After winning three straight to close out the non-conference slate, Vanderbilt has lost its first three SEC contests, falling by an average of nearly 25 points per contest to Mississippi State, LSU and Ole Miss. On Thursday night in Oxford, Miss., the Ole Miss Rebels got the upper hand on the Commodores, notching a 74-53 win to remain unbeaten in SEC play and keep VU winless vs. league foes in 2022-23.
History Between The Coaches
The 2021-22 season brought a brand new look to the Tennessee-Vanderbilt rivalry, as former Lady Vol standout Kellie Harper, who was then in her third year leading her alma mater, met then first-year Vandy skipper Shea Ralph, a UConn alum, for the very first time as head coaches.
It's now year four at UT for Harper and year two for Ralph at VU, with Harper getting victories in the coaches' two meetings a year ago. 
The duo's careers at UT and UConn overlapped from 1996-97 to 1998-99, with Harper (then known as Kellie Jolly) helping lead UT to the second and third of three-straight NCAA titles in 1997 and 1998, while Ralph contributed to a UConn crown in 1999-2000 after Harper had graduated.
Harper was 4-2 as a player vs. UConn, including 3-1 in games when both were on the rosters of the respective programs.
Both coaches feature spouses on their staff, with Jon Harper serving as an assistant coach alongside his wife, Kellie, for the 19th season. Tom Garrick is Ralph's husband, and he is in his second year as an associate head coach on her staff. SEC observers may also recall Garrick was an assistant at Vandy from 2009-15.
Harper has two children, including son Jackson and daughter Kylie. Ralph has a daughter, Maysen.
Broadcast Information
Sunday's game will be televised on SEC Network, with John Brickley (PxP) and Brooke Weisbrod on the call.
All of the games included in the ESPN package (ESPN, ESPN2, ESPNU) will be available through WatchESPN, accessible online at WatchESPN.com, on smartphones and tablets via the WatchESPN app, and streamed on televisions through Amazon Fire TV, Apple TV, Chromecast, Roku, Xbox 360 or Xbox One to fans who receive their video subscription from an affiliated provider.
The contest also can be heard on Lady Vol Network stations and by audio stream, with Brian Rice on the call and Andy Brock serving as studio host. 
A link to the live audio stream can be found on the Hoops Central page or the schedule on UTSports.com.
For a list of Lady Vol Network affiliates, please click on the Fans tab at the top of UTSports.com, select Vol Network and then click on the Vol Network Affiliates tab.
Air time for games on the Lady Vol Radio Network generally occurs 30 minutes prior to tip-off.
The Lady Vol Network broadcast also can be heard frequently on satellite radio via SiriusXM and the SXM App. UT vs. Vandy, however, will not be available.
UT Lady Vols vs. In-State Foes
The Tennessee women are 258-61-1 all-time vs. four-year college teams from the Volunteer State, and Kellie Harper is 14-0 in those match-ups in her fourth season on Rocky Top.
The Lady Vols are 1-0 in 2022-23, were 6-0 in 2021-22 (wins vs. Tennessee Tech, East Tennessee State, Chattanooga, and Belmont at home and vs. Vanderbilt on the road and at home), and were 3-0 in 2020-21, with wins over ETSU, Lipscomb, and Middle Tennessee, with two games on the schedule vs. Vandy (home and away) canceled.
UT has won 14 in a row over schools from within the state border and 30 of the last 31, with the lone setback during that run being a 76-69 loss to Vanderbilt in Knoxville on February 28th, 2019.
Tennessee In SEC Play
UT is 428-94 (.820) in SEC regular-season games through the Mississippi State match-up, winning league bests of 18 regular-season championships and 17 SEC tourney titles through the years.
Tennessee Head Coach Kellie Harper is 33-15 in SEC games through the MSU contest, including 3-0 in 2022-23, and is 3-3 all-time in SEC Tournament play.
UT tied for third in 2019-20 and finished third outright in 2020-21 and 2021-22, marking its best back-to-back-to-back outcomes in SEC play since taking first in 2012-13, second in 2013-14, and first in 2014-15.
The Lady Vols were picked second in the 2022-23 SEC Preseason Media & Coaches Polls, marking their best positions since 2015-16 and 2016-17, respectively.
A UT win over LSU in the 2021-22 finale would have given UT a tie for second. The fact the Lady Vols still nabbed third despite the many injuries they suffered was pretty remarkable.
TV Designation For Georgia Game
Tennessee and Georgia have been notified that their game on January 15th will air on the SEC Network.
Tip-off for that contest is slated for 12:02pm CT at Thompson-Boling Arena.
That game will feature Kids' Day Out with the Lady Vols presented by KOC. For more info., go to AllVols.com.
Looking Back at the MSU Game
Tennessee improved to 3-0 in Southeastern Conference play, taking an 80-69 win over Mississippi State in Thompson-Boling Arena on Thursday night.
Senior guard Jordan Horston led UT (11-6, 3-0 SEC), setting new season highs of 27 points and 14 rebounds to post her fourth double-double of the 2022-23 campaign. She nearly carded a double-double in the fourth quarter alone, tallying 13 points and nine boards in the final frame.  
Fellow senior Rickea Jackson also had a hot hand with 18 points on the night, while junior Tess Darby finished with 13 points on four made 3-pointers.
The Lady Vols, who are receiving votes in the AP Poll this week, won their fourth straight contest and claimed victory for the ninth time in the past 11 outings.
Jessika Carter and Debreasha Powe were the top scorers for MSU (12-4, 1-2 SEC) with 21 apiece.
Big On The Boards
The UT Lady Vols pulled down 50 rebounds against MSU, 25 of which were on the offensive glass to tie their best offensive rebounding mark of the season.
Tennessee out-worked the Bulldogs 50-31 to win the rebounding battle for the 13th time this season, including 11 of the last 12 outings, and carded 50+ for the fourth time this season.
Triples By Tess
With four 3-pointers against MSU, Tess Darby logged her ninth game of the season with multiple treys.
It's the sixth time she's recorded three or more threes this season and the 17th time during her career.
Continued Ball Security    
Tennessee limited its turnovers to eight vs. the Bulldogs (who entered forcing 20.5 TOs per game via 11.5 steals per contest), marking the fourth time this season (fourth in the last seven games) the Big Orange had fewer than 10. 
UT is committing 11.0 miscues per game during that seven-contest span and has lowered its season average to 14.8.
Big Bench Points
Tennessee's bench outscored Mississippi State, 31-3, marking the 13th time in 17 contests it has gotten the upper hand on foes.
The Lady Vols are out-pointing their opponents 31.8 to 16.5 for a margin of +15.
UT/Vandy Notes
The Tennessee Lady Vols are 35-1 vs. the Commodores in Knoxville, 31-7 in Nashville and 10-2 at neutral sites (all postseason).
UT has won 14 of the past 15 games and the last seven in Nashville.
These squads have been to overtime on one occasion, with Tennessee seizing a 92-79 decision in Nashville on Jan. 19, 1997.
Including that OT game in '97, Kellie (Jolly) Harper was 9-0 vs. VU as a Lady Vol point guard, and she is 4-0 as UT's coach.
Harper was 0-1 vs. VU at Western Carolina and 1-1 at NC State.
A Look At Vanderbilt
Ciaja Harbison, a transfer from St. Louis Univ., leads Vanderbilt in scoring at 18.7 ppg., hitting 82.7 pct. (81-98) on free throws.
Boston College transfer Marnelle Garraud is VU's only other player scoring in double figures at 12.7 ppg., draining 42 treys.
The Commodores are shooting only 31.5 pct. from the field and allowing 50.8 pct. accuracy in SEC play.
On the boards, VU has a 25.0-47.0 deficit (-22.0) vs. SEC foes.
VU's Last Game
Vanderbilt graduate guards Ciaja Harbison and Marnelle Garraud combined for 38 points, but Ole Miss pulled away in the second half for a 74-53 victory in Oxford.
Harbison scored 21 points and grabbed four rebounds, while Garraud finished with 17 points, four rebounds, four assists and two steals. Angel Baker tossed in 22 points to lead Ole Miss.
Last Meeting Between VU/UT
Jordan Horston had 16 points, 13 boards and seven assists, and Rae Burrell added 15 points, as Tennessee beat Vandy in Knoxville, 66-52, on February 13th, 2022.
Brinae Alexander (19) and Iyana Moore (17) led the way in scoring, as VU struggled to 31.3 pct. on FGs and 22.2 pct. on 3FGs.
Next Up For UT Women's Basketball
The Tennessee Lady Vols basketball team is back on the road next week, as they travel to College Station to play Texas A&M on Thursday, January 12th, at Reed Arena.
That game is slated to tip at 8:00pm CT (9:00pm ET), with SEC Network televising.
Combined with the Vandy game, it will mark Tennessee's first back-to-back true road games of the 2022-23 season. 
UT, of course, played three straight games at a neutral site in the Women's Battle 4 Atlantis tourney from November 19th-21st at Paradise Island, Bahamas.
if ( window.fbAsyncInit === undefined ) {
window.fbAsyncInit = function() { FB.init({ appId : '146185627286', xfbml : true, // version : 'v2.7' version : 'v9.0' }); };
(function(d, s, id){ var js, fjs = d.getElementsByTagName(s)[0]; if (d.getElementById(id)) {return;} js = d.createElement(s); js.id = id; js.src="https://connect.facebook.net/en_US/sdk.js"; fjs.parentNode.insertBefore(js, fjs); }(document, 'script', 'facebook-jssdk'));
}


This news is republished from another source. You can check the original article here