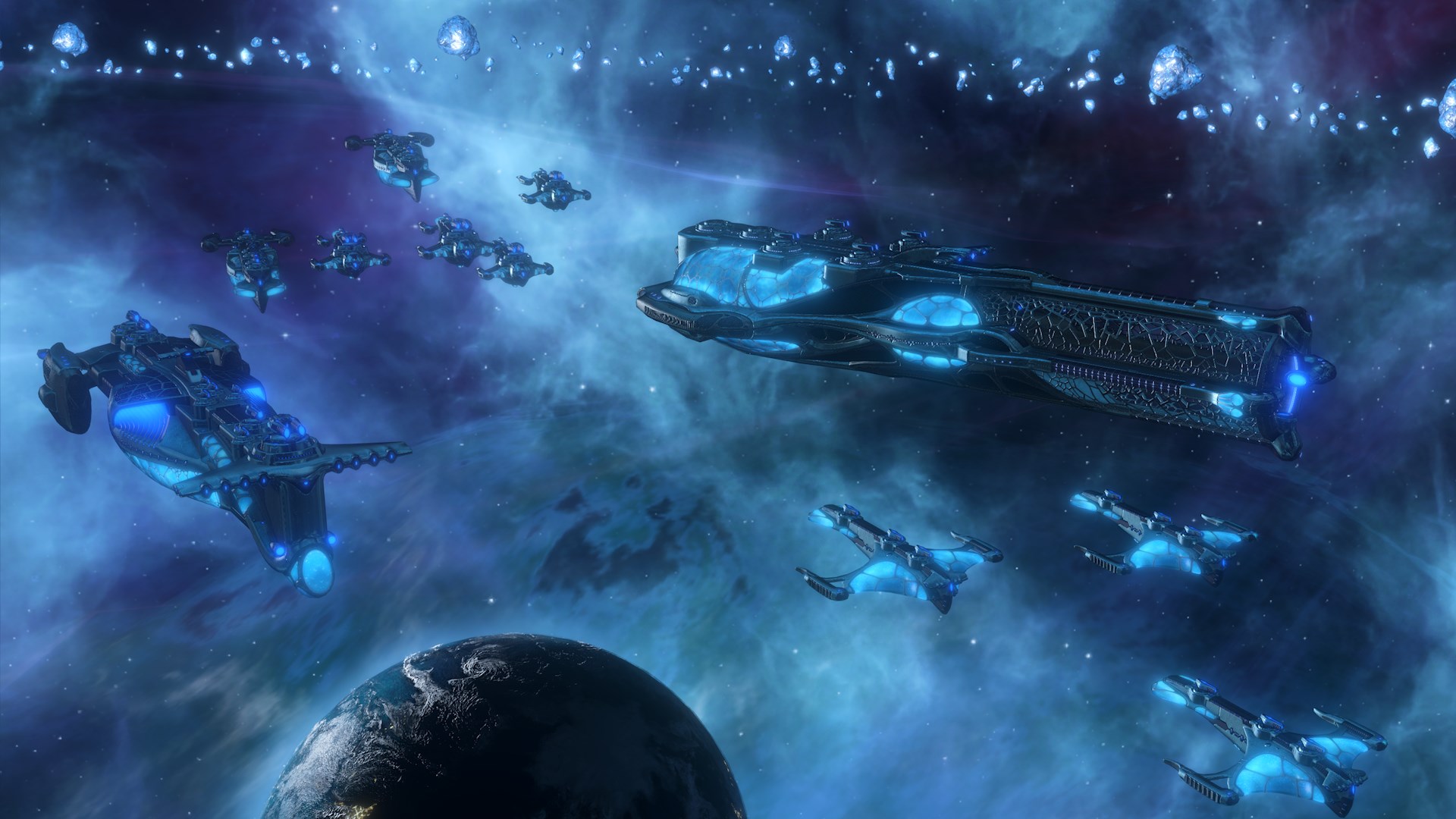 PC players have had access to the wonders of the Stellaris Aquatics Species for some time already, but finally the console scene has caught up, with the latest DLC rollout for those playing on Xbox and PlayStation. 
Pushed out from Paradox Interactive for all Stellaris: Console Edition players to enjoy is the new Aquatics Species Pack – bringing addition origins, traits, perks and more to the Xbox and PlayStation versions of the game. 
It is available right now as an individual purchase for £8.39, with the need for the Stellaris: Console Edition base game obviously firmly required. 
Dive in and check out what is under the surface and you'll find all of the following…
New origins:

Here be Dragons!: An ancient, intelligent, thousand year old sage-like blue dragon is orbiting your home world. She protects, but also demands – is she a guardian or threat? Perhaps both….
Ocean Paradise: Aquatic species have mastered the water elements and are now ready to harvest the rewards that a life on the sea brings. Gives players a larger home world, as well as happier schools that grow faster!

New trait: Aquatic: These species are adapted to live on ocean worlds but less so on others. Choose carefully when beginning your voyage! 
New Civic: Anglers: Visit the agriculture districts to reap the spoils of the ocean: fresh seafood and rare pearls, a valuable consumer good. 
New Ascension perk: Hydrocentric: Aquatic species have developed cheaper and faster methods of modifying their environments, by either terraforming planets into oceanic worlds or making them bigger by harvesting water from other worlds.
New ship set with a sleek look, designed to help you yacht your way through space.
New Aquatics Dragon: A new, majestic space dragon will now grace the stars.
New Advisor: Sail the stars alongside the Seafarer advisor voice, inspired by high-seas adventure fiction.
15 new aquatics portraits 
You'll also find the Aquatics Species Pack kicking around in the Fifth Expansion Pass for the game. It's that which will deliver you the goodness of the Nemesis expansion as well as the upcoming Overlord content soon too. 
The base Stellaris: Console Edition game on Xbox is over at the Xbox Store, fully Game Pass'ed up if you prefer not to spend a penny. 
DLC Description:
Embrace the life of a seafaring civilization as you sail the open expanses of the galaxy with Stellaris' most immersive pack yet: the Aquatics Species Pack! Let a wave of new customizable options for your empire crash into Stellaris, with a treasure trove of new species portraits, ship set, origins and more.
This news is republished from another source. You can check the original article here