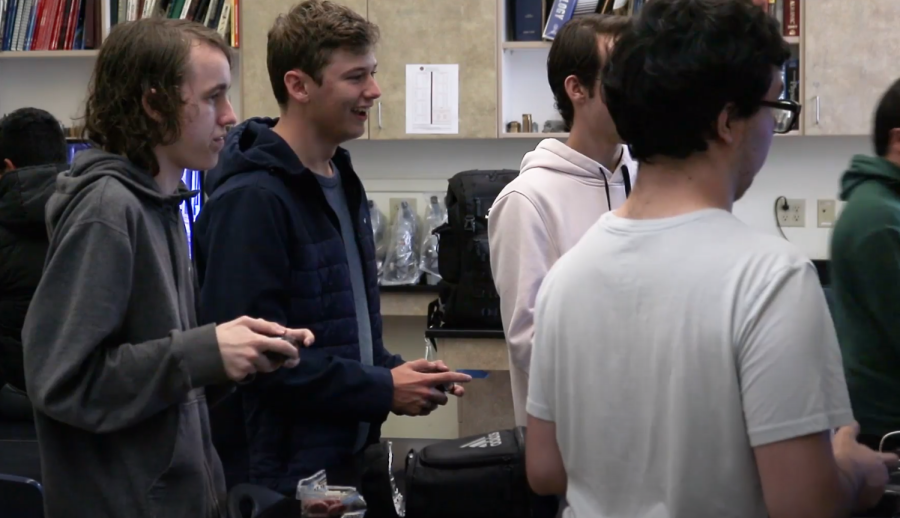 There are many clubs around campus open for students. One specific club that brings a rise towards gamers is the videogame club. Video game club is a club where gamers can play videogames and compete in tournaments.
"The video game club has been around campus for many years now. Originally it started out as a casual group of people who wanted to play some games and needed a place so I just volunteered my room and they just came in to play," Addington said.
Senior Rylan Kerr enjoys that the club is welcoming and immediately accepts new members.
"I always liked the video game club, I always felt the people in there are super nice and really inclusive and they really like to try to make people feel like they belong," Kerr said. 
Addington spends his money on equipment to increase more space in the classroom than having many students gathered around in one small area. More equipment in the classroom can allow students to walk around, checking out different setups for them to use.
"Flat Screens Tv, switch docks, things like that and so it kinda involved towards bigger club. Basically kids come in everyday at lunch, both lunches and they play different games with each other. Either on a Switch, WiiU, or a GameCube," Addington said.
Video Game club is not just playing games all the time but acquiring life lessons to improve yourself in the world. Senior Alex Casselman believes that the video game club gave him life lessons.
"I made some friends and it has taught me how to be better at communications, just talking to a lot of people there," Casselman said.
Comparing the total number of students between the year 2022 and 2021, the numbers have been changing frequently. Students would come over to the club to play video games, but not as much Addington expected to see. Back in 2019, the club was filled with larger groups of students than when COVID started striking at school, fewer students would show up less to play video games.  
"Before COVID, it was really big, we had 30 or 40 people coming regularly. During the COVID shutdown, there was nobody. Ever since we came back from COVID the numbers have been slowly growing. I would say now we come back up to 20 people on a regular basis," Addington said.
Addington likes how the club is inviting many students to build new friendships with others. This kind of outcome can make the club become a fun hangout spot for students to come in, talking with friends at lunch or after school.
"It gives people the opportunity to meet together socially in a safe place. It's supervised, air conditioned, and they can interact, socialize, and do things with other people," Addington said.
Addington suggested that students should check out the club. The club is open everyday at lunch and after school for any students.
"I think it's a fun club and if anyone wants to check it out, they are welcome to come by room 901," Addington said.
Related


This news is republished from another source. You can check the original article here