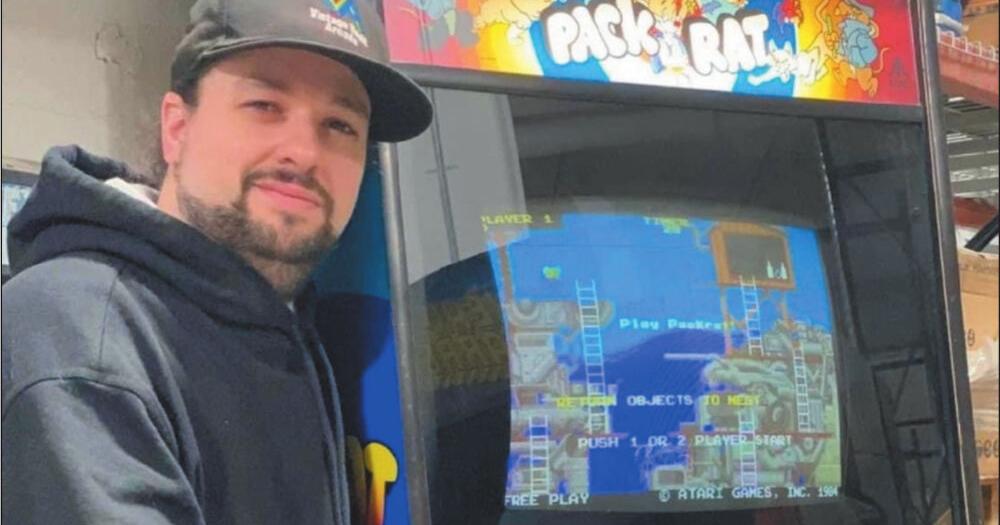 Back in the heyday of arcades the game player would have a bunch of quarters burning a hole in their pocket. James Srnec, owner of Vintage Vault Arcade, plans to open a free play retro arcade in Mukwonago at 715 Main St., Ste. 200.
"What that means is you pay an admission cost fee to get in, but everything is free," Srnec said.
Normally games have a hard wire on the inside that can be switched over. Once it is switched over the game will play when you hit start.
"Some games don't. So what I do is wire the coins switch to a button and put the button in front of the cabinet. All you have to do is hit the button and it acts like it puts a credit or a quarter in it. You hit start and it just runs," Srnec said.
This is Srnec's first business venture but not his first dabble in video games. The East Troy resident has been collecting for six years.
"It's one of those things that is a passion of mine. I like to bring them back from the dead such as rebuilding the monitors and adding a new power supply in them. It's a really rewarding job," he said.
When he rebuilds the machine he tries to keep them as original as possible. It typically takes a day to fix up a game, however there are other aspects involved. If he needs to order a part or rebuild a monitor it could take up to 30 days. Luckily he has a network of friends who may have a component he needs. "You could also be waiting on artwork. I've been there many times before. One time I had to wait a year for art," Srnec said.
Srnec taught himself how to fix up games and through watching other friends. He is at the point where he is impressing his friends with his repair skills.
Srnec has suffered a few losses such as not being able to repair the Indiana Jones game.
"I rebuilt the power supply, the sound bar, I put in a new power switcher. I did everything to that game and put new side art on it. When I put the PCB in, it just died on me," he said.
It sat in a warehouse for a few years before he sold it.
Srnec is proud of bringing his Teenage Mutant Ninja Turtles and Simpsons games back to life.
Retro play
He first got into this line of work after a friend dropped off a Ms. Pac Man game.
"Me and my friends were playing it, and before I knew it we were playing it for over three hours," Srnec said.
He was born in 1987 and remembered going to the arcades such as Aladdin's Castle in Milwaukee. He recalled playing Super Mario Bros. and Tetris.
He was hooked and wanted more games and before he knew it, he had 22 arcade games in his home. Quickly his collections outgrew his home and he began storing the games. He has over 133 arcade games.
"I asked myself what I was doing with all these games and then it hit me. I should start placing them in bars, restaurants and do a split revenue to keep the income coming in to buy more games," he said.
Srnec did that for a while with the plan to get his own space. He found a space in the same building as Kay's Academy of Dance. There will be 100 video games with titles from 1978 to the early 2000s. He has Frogger, Q*bert, Donkey Kong, Donkey Kong Jr., Paper Boy, Street Fighter and other iconic games.
Srnec likes offering games that people remember or are shocked that he has. He used the example of an arcade game of the band Journey. He is happy to give adults a nostalgic time travel back to their younger days. Also, he finds children are interested in the games even though there are only basic moves of up and down, left to right.
"It's mainly the nostalgia factor but it is about creating new memories as well," he said.
Srnec anticipates a grand opening on Jan. 20.
"We are literally waiting on paint to dry," Srnec said.
For more information on games, hours and more, visit the Facebook page at bit.ly/fbvintagevault.
This news is republished from another source. You can check the original article here