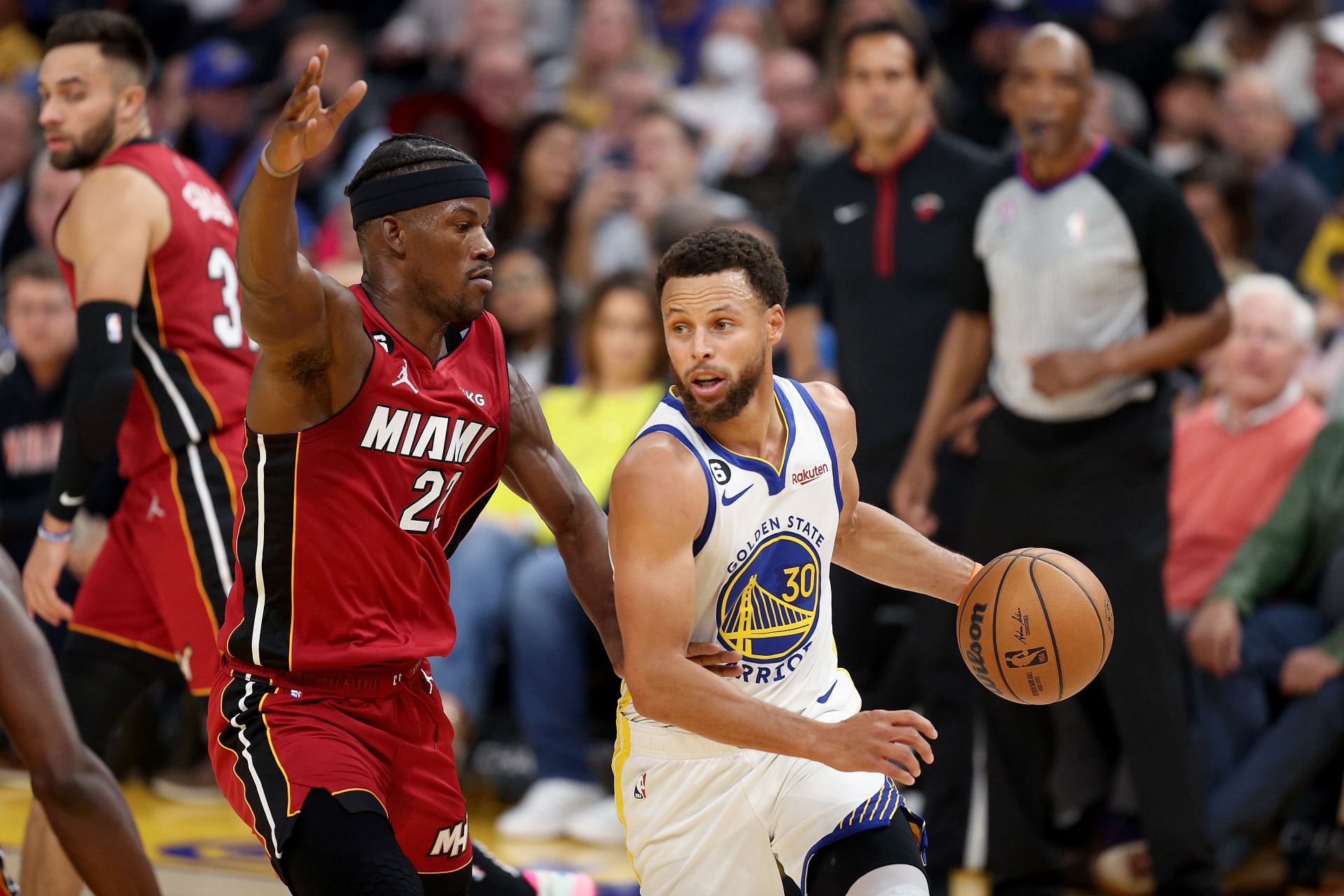 Stephen Curry continued his hot start to the season during the Golden State Warriors' 123-110 win over the Miami Heat on Thursday night. Curry scored a game-high 33 points to go along with seven rebounds, nine assists, and seven made 3-pointers.
'Steph' also scored 10 of his 33 points in the fourth quarter with a flurry of tough jumpers to put the Heat away for good. Performances like these have become the norm for Curry, as the game marked his fourth 30-point game in five games so far this season. However, Curry's brilliance never fails to amaze his teammates.
Speaking after the game, Warriors All-Star forward Andrew Wiggins said:
"When he gets in that mode, it's like a video game. … That's why he's one of the GOATs."
Wiggins had a pretty good game himself, recording his first double-double of the season with 18 points and 10 rebounds. Meanwhile, Warriors' shooting guard Klay Thompson also finished with 19 points and five made 3-pointers.
Overall, the Warriors as a team also had their best shooting night of the season, with a season-high 18 made 3-pointers on 39.1% 3-point shooting. Warriors head coach Steve Kerr added that he felt like it was the team's best defensive performance as well:
"I thought it was our best defensive game yet. It just felt like a more typical Warriors performance where we were getting stops consistently and then getting out and running. … Other than a few careless turnovers, I thought it was the best we've played at both ends."
Steve Kerr also touched on Stephen Curry's impressive offensive display:
"And of course, Steph was just sublime. What he's doing is incredible. He just gets by anybody. It doesn't matter who's on him, he gets right into the teeth of the defense, finishes, finds guys. He's been spectacular here to start the year."
As for the Heat, they were led by their All-Star duo of Jimmy Butler and Bam Adebayo with 27 points and 26 points respectively. It was the second night of a back-to-back for Miami, who had just beaten the undefeated Portland Trail Blazers 119-98 in Portland the night before.
However, following the loss, the Heat have now fallen to a disappointing 2-4 record this season. The Heat's next game will be on Saturday on the road against the Sacramento Kings who've remained winless so far this season.
Meanwhile, the Warriors' next game will be on Saturday on the road against the 2-2 Charlotte Hornets. The game will mark the beginning of a five-game road trip for the Warriors.
Watch Andrew Wiggins' post-game interview below:
---
Watch: Stephen Curry crosses over Tyler Herro and then pounds his chest after splashing the three
Stephen Curry made a ton of tough shots during the Warriors' win over the Heat on Thursday night. But one in particular really got Curry and the Warriors fans fired up.
With 5:37 left in the fourth quarter and the Warriors up 105-100, Curry caught the ball at the top of the arc. He then proceeded to crossover Heat guard Tyler Herro twice before sinking a three. Curry then pounded his chest with both hands and let out a scream which fired up the fans.
Following the game, Warriors All-Star forward Draymond Green spoke about the moment:
"It was a great move. He got to the spot that he wanted. Once he got Tyler to open his back leg up, he was kind of dead at that point. Steph is incredible and he's playing great to start this year off, which is expected. He continues to improve, which is scary that that guy continues to get better."
Overall, the move perfectly encapsulated just how unstoppable Stephen Curry has been to start the year off:


This news is republished from another source. You can check the original article here